Blockchain Research & UX Framework
Core Network & Product Features
From the Eximchain whitepaper, one of the key differentiators the Eximchain network has is utilizing quadratic voting to elect blockmakers that manage the network. Quadratic voting is a new election method that allows users to cast their preference for and against a candidate, with the cost of their vote increasing quadratically to submit a higher preference.
This governance mechanism quickly breaks if a user can vote with multiple identities or addresses. So the solution required the following key features:
1. A new address must be generated in app that will be linked to the users email account.
2. Once a wallet is created, the user must then go through an identity validation process modeled after Know Your Customer (KYC).
3. If the user passes KYC and doesn't already exist in the network, then the email and associated wallet address are approved for voting on the network.
User Journey Map
The introduction of quadratic voting and blockchain technology together was confusing to even our internal team. We started by mapping the full customer journey to see any area that could be streamlined. In the end, we arrived at four major flows including sign up/sign in, wallet creation, and identity validation.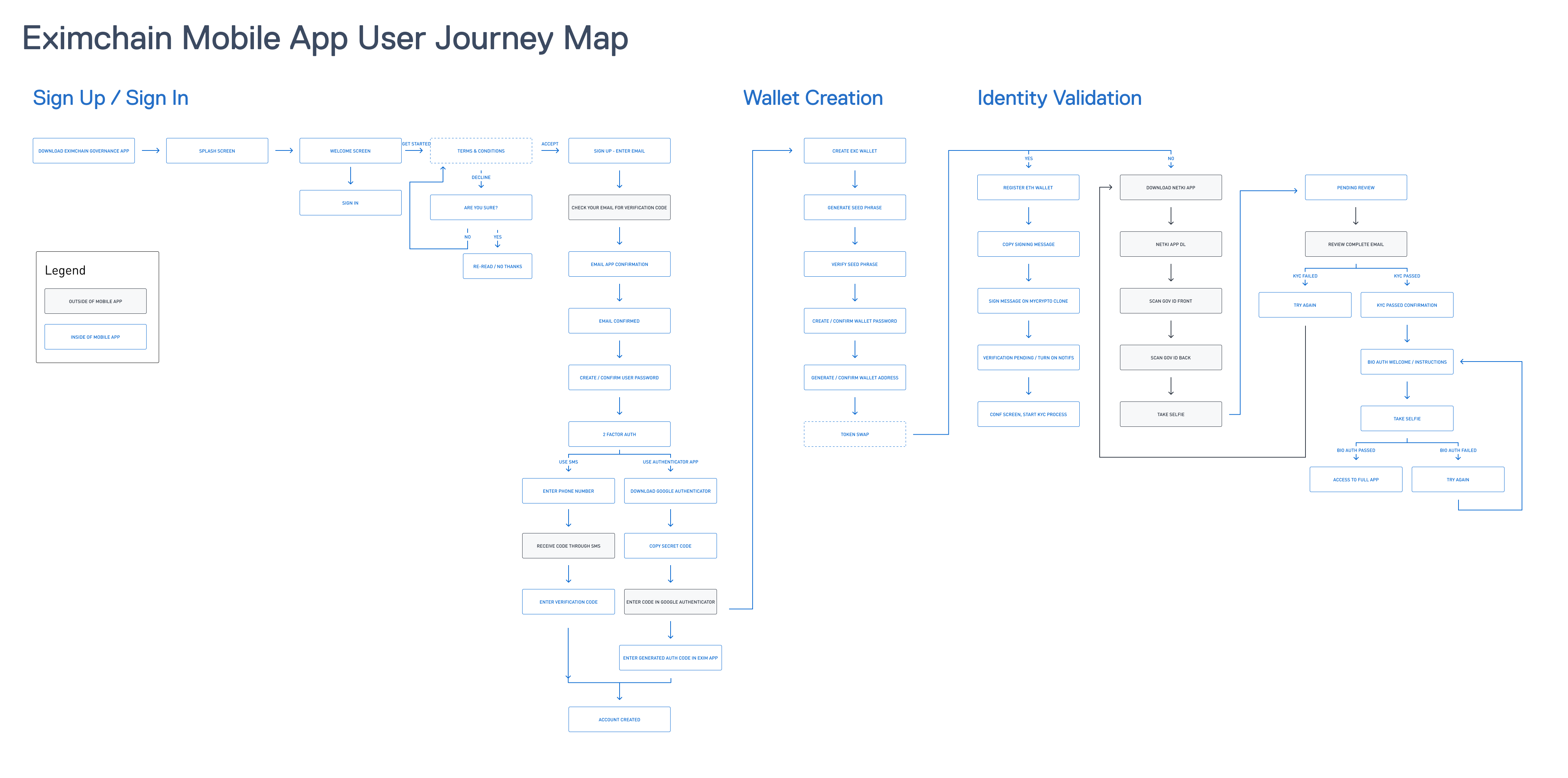 Cryptocurrency Wallet Interfaces
Public/Private Key pairs and wallet generation is one of the many complex topics to learn about to understand blockchain technology.
A quick excert from Belavadi Prahalad on the De Facto Rules governing using Ethereum based wallets are:
Private keys authenticate your ownership of ether.
Losing your private keys implies that you no longer have access and cannot spend locked up ether.
Addresses are used for making and receiving transactions, not public keys.
Public keys and addresses aren't synonymous.
Knowledge of either your public or private key will let you recreate your address.
Public and Private keys are used to establish digital signatures.
Because it is critical to not lose your Private keys, we decided to use a BIP 39 compatible mnemonic or seed phrase.
"A mnemonic is a set of words which when reproduced in the exact sequence and order will recreate your private keys. Mnemonics evolved to help cryptocurrency holders remember or rather arrive at a way to retain a certain set of information in human memory which would enable them to recreate their private keys."
This proved to be the easiest form of remembering and correctly storing a cryptocurrency private key. Copying a 42 digit hex string led to more errors in testing. Since we don't store the users private keys (allowing our users to keep their sensitive data private), we can not help our users restore their wallets if lost. Private key stewardship itself is a pain point must be addressed for broader enterprise blockchain adoption.